The Hatchet is the only remaining pub in Childrey. The Crown which is an older building became a private dwelling during the last century. The Hatchet is nevertheless a Grade II listed building which dates from about 1830. Documents exist relating the sale of part of The Lesters at a public auction at the Hatchet in 1846. The owners of the Crown also have a poster advertising another auction in the same decade.
Enjoy a warm welcome at The Hatchet from Ian and Jane Shaw who have run it for some years since they left The Sparrow in Letcombe Regis. Like the Crown that establishment has since been converted to a private house. Ian has an excellent reputation for his cellar craft and has won acclaim from the Campaign for Real Ale. Jane can be relied upon for her traditional lunch time fare which is always good value.
Outside, customers benefit from a car park, a large garden equipped with children's play equipment and convenient benches just outside the pub door, whilst inside there is a pool table and a dart board.
Regular trade includes local football teams, cyclists, walkers and bell ringers. Quiz nights and a charity auction feature during the year and a particular annual highlight is the 'Mummers Play' each Boxing Day when the Icknield Way Morris Men end a tour of local pubs here in Childrey, an event renowned for its humour and the sing song which follows.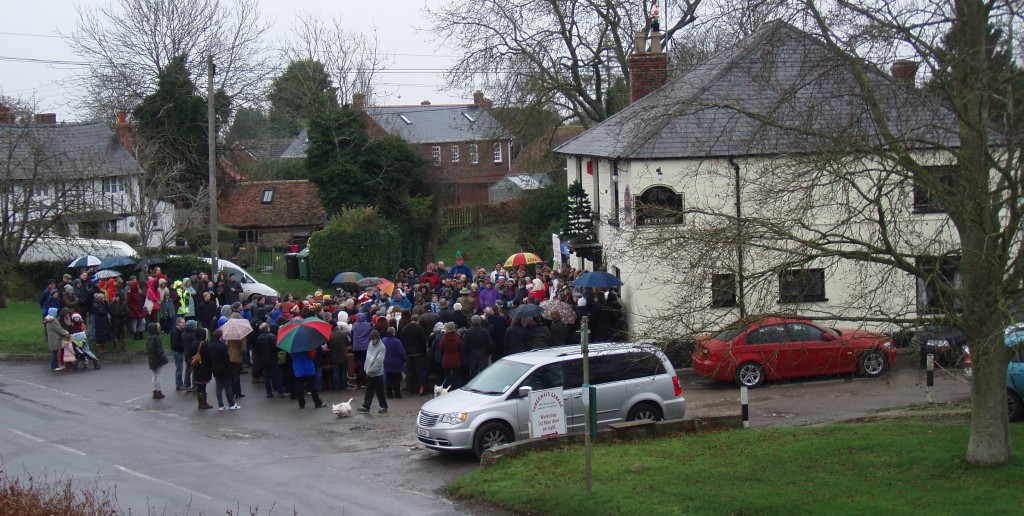 Photo by Arthur Rodman
 Opening Times
| | | |
| --- | --- | --- |
| Monday & Tuesday | – | 19:00 – 23:00 |
| Wednesday to Friday | 12:00 – 14:30 | 19:00 – 23:00 |
| Saturdays | 12:00 – 15:00 | 19:00 – 23:00 |
| Sundays & Bank Holidays | 12:00 – 15:30 | 19:00 – 22:30 |
Once brewed in locally in Abingdon the 'host beer' is Morland, now brewed by Greene King. Additionally Ian always keeps few guest beers together with lager and cider.